Anton Dante Coda
Un malinconico leggero pessimismo. Diario di politica e di banca (1946-1952)
by Gerardo Nicolosi (editor)
The first president of the Istituto Bancario San Paolo di Torino after the Second World War, Anton Dante Coda was one of the most active exponents of liberalism in Italy's Piedmont region. The 1946–52 diary bears witness to Coda's role at the head of one of the country's most prestigious banks and, more generally, it is also an important source to reconstruct relationships linking banks, businesses and politics in Italy following the war.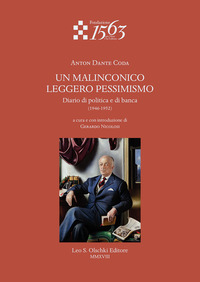 Title: Anton Dante Coda. UN MALINCONICO LEGGERO PESSIMISMO. Diario di politica e di banca (1946-1952)
Author: Gerardo Nicolosi (editor)
Series: Quaderni dell'Archivio Storico della Compagnia di San Paolo, vol. 2
Publisher: Casa Editrice Leo S. Olschki (Firenze)
Year: 2018
Pages: 378 pp.
Language: Italian
Isbn: 9788822265449