Giovanni Mario Crescimbeni, La bellezza della volgar poesia, edition by Enrico Zucchi
Originally published in 1700 by the then Custodian of Arcadia Giovan Mario Crescimbeni, La bellezza della volgar poesia aims to offer to the Italian eighteenth-century scholars a new poetics, able to illustrate the literary program of the Academy. Supporting the primacy of the Italian poetry compared to the classical one, the revival of the Renaissance Platonism and the formal blame for the baroque poetry, this treatise in the form of dialogue is a precious document of the Arcadia's literary culture and aesthetics.
This volume contains the commented edition of the text, established on a copy of the book conserved in the Vatican Library, including several unpublished annotations made by the author and by Anton Maria Salvini; these marginal handwritten notes was then employed by Crescimbeni in order to publish a new edition of La bellezza in 1712, a few months after the secession, promoted by Gian Vincenzo Gravina, which took place within the Academy.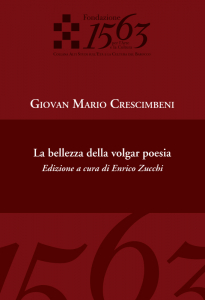 Title: Giovanni Mario Crescimbeni, La bellezza della volgar poesia
Editor: Enrico Zucchi
Series: Alti Studi sull'Età e la Cultura del Barocco
Publisher: Fondazione 1563 per l'Arte e la Cultura della Compagnia di San Paolo
Year: 2019
Pages: 497 pp.
Language: Italian
Isbn: 9788899808143