Building and Representing Majesty. Atria, Staircases and Salons in Filippo Juvarra's Designs for Royal Residences, from Messina to Madrid by Roberto Caterino
Throughout his career Filippo Juvarra is often required to carry out the theme of royal palace, since 1705 when he win the first prize in the first class of the Concorso Clementino. Engaged by Victor Amadeus II of Savoy with a sample of his ability in making a «disegno a più idee» for the royal palace of Messina (1714), in Turin Juvarra becomes the sole director of an ambitious plan of renovation which invests in the modernization of court residences to build an image of prestige appropriate to the rank of kingdom acquired after Utrecht. The monumental transformation of Rivoli Castle (from 1715) and the magnificent staircase with façade of Palazzo Madama (1718-1721) represent central episodes of a reflection that comes to the planning of the new royal palace of Madrid for Philip V of Bourbon (1735).
The series of royal residences designed by Juvarra is analyzed through the ceremonial device that articulates in a precise spatial sequence atrium and staircase to reach the state apartments. This survey requires a comparison with models of a consolidated tradition in aristocratic and princely palaces, in order to comprehend the quality and the novelty of Juvarrian interpretation, by reflecting on the connection between typology, function and etiquette.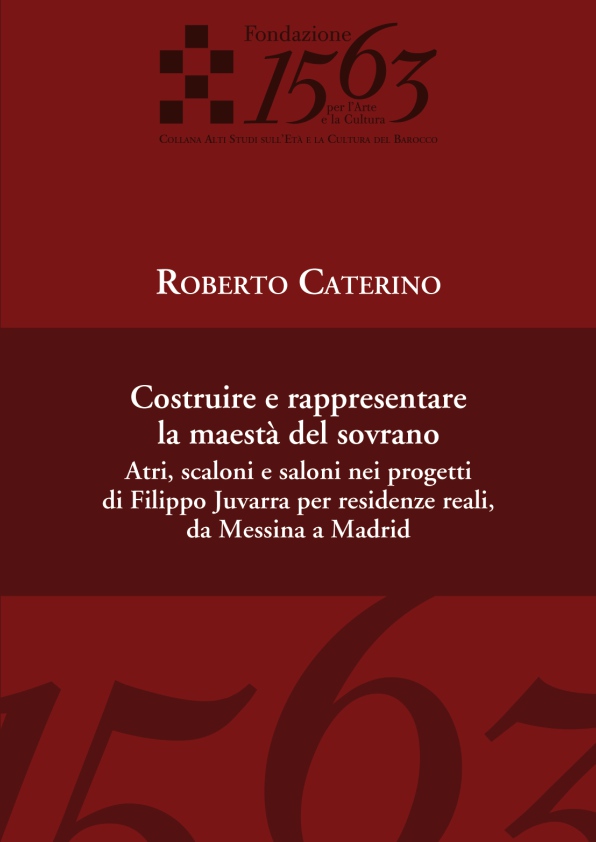 Title: Costruire e rappresentare la maestà del sovrano. Atri, scaloni e saloni nei progetti di Filippo Juvarra per residenze reali, da Messina a Madrid (Building and Representing Majesty. Atria, Staircases and Salons in Filippo Juvarra's Designs for Royal Residences, from Messina to Madrid)
Author: Roberto Caterino
Series: Alti Studi sull'Età e la Cultura del Barocco
Publisher: Fondazione 1563 per l'Arte e la Cultura della Compagnia di San Paolo
Year: 2016
Pages: 125 pp.
Language: Italian
Isbn: 9788899808037