Allestimenti di ritratti e narrative storico genealogiche nei palazzi fiorentini, ca. 1650-1750
by Pasquale Focarile
This book analyzes the evolution of family portraiture in Tuscany through 17th and 18th centuries, exploring the criteria for its display in domestic settings. After the establishment of the Medici grand duchy, the heirs of the ancient Tuscan oligarchy lost the power that republican institutions once granted them. They were thus forced to rewrite their own history, looking to the past to reshape their noble status according to the parameters of princely states. Family portraits were now regarded as proofs of nobility and their display was conceived as a form of narration, based on both the micro-stories inscribed in each portrait and their juxtaposition to other portraits and objects.
The description of the noble identity is central to this research, providing a new contribution to the historical investigation of the ideological debate on "nobiltà". Nevertheless, the portraits as art objects remain the main focus and the political discourse provides a key to interpret the evolution of portraiture. This study demonstrates how the political urgency of representation impacted every aspect of the production and display of portraits: from the selection of social categories worthy of representation; to the creation of new iconographies; from the formal characteristics of the objects (dimensions, frames, etc.) to the presentation and display criteria.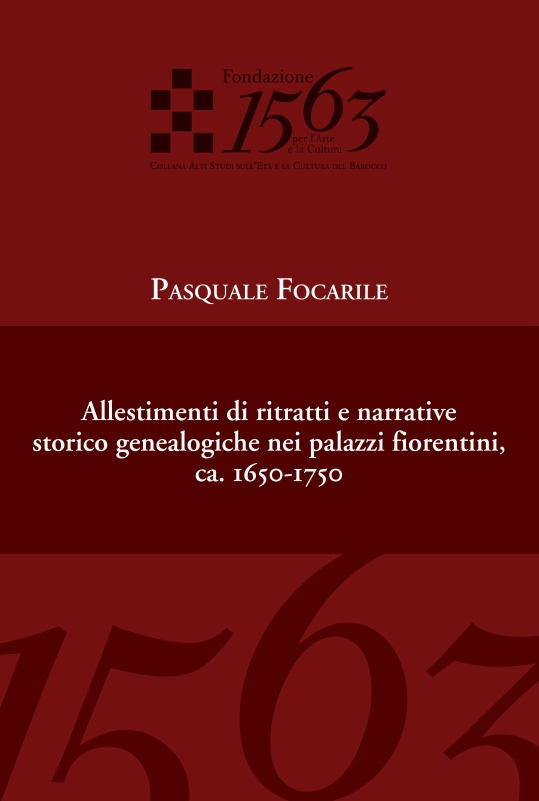 Title: Allestimenti di ritratti e narrative storico genealogiche nei palazzi fiorentini, ca. 1650-1750
Author: Pasquale Focarile
Series: Alti Studi sull'Età e la Cultura del Barocco
Publisher: Fondazione 1563 per l'Arte e la Cultura della Compagnia di San Paolo
Year: 2019
Pages: 333 pp.
Language: Italian
Isbn: 9788899808204