Filippo Juvarra and the elaboration of the ornamental taste between Rome and Turin (1704-1735)
by Sara Martinetti
The research's work – which comes out with the aim to share materials still susceptible of improvement – focuses on the activity of Filippo Juvarra as interior and furniture designer, investigating relations between his creations in these two fields and the decorative prominences in Rome during the years he worked in the Town. Decoration is a constant presence in the Architect's graphic activity since his first drawing in the study of Carlo Fontana, representing two doorways decorated with putti and swags (1704). Few years later, in the Antamoro Chapel in San Girolamo della Carità (1708-1710), Juvarra shows his refined attitude towards interior design conceiving decoration and furniture as a whole with the structure.
The Architect's way to proceed, studying different solutions in order to finally choose the more convenient to his aim, emerges also in his activity as a stage designer, started in 1706 with the album «Pentieri Scenichi» and then improved at the service of cardinal Pietro Ottoboni (1709-1713). Choosing appropriate decoration and furniture for these settings Juvarra already proves himself in the display of power and royalty, while he waits for real architectural commissions to come. This will happen with the call at service from the King of Savoy in 1714: the sketches for console tables drawn for the new king of Sicily testify this intense process of acquisition of roman sources, sharing interesting affinities with Giovanni Giardini's album Disegni diversi, edited in Rome in the same year.
During his mature activity in Turin Juvarra constantly uses what he has seen and what he continues to see in Rome to create innovative ornamental solutions, renewing the antiquarian taste for grotesques, realising a precious glass cabinet or introducing oriental lacquer furniture in the Royal Palace: in doing so he invents for the court of Savoy a kind of celebration ideally connected with Roman Emperors, but actually updated to broad international experiences.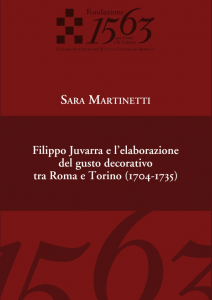 Title: Filippo Juvarra e l'elaborazione del gusto decorativo tra Roma e Torino (1704-1735) [Filippo Juvarra and the elaboration of the ornamental taste between Rome and Turin (1704-1735)] Author: Sara Martinetti
Series: Alti Studi sull'Età e la Cultura del Barocco
Publisher: Fondazione 1563 per l'Arte e la Cultura della Compagnia di San Paolo
Year: 2016
Pages: 155 pp.
Language: Italian
Isbn: 9788899808044