The value of the copy in the French Academy of Art (1666-1699). Functions, models, destinations and practices
di Valeria Di Giuseppe Di Paolo
The copy, explicitly mentioned in the Article XI of the Statute of the Academy of France in 1666, is the essence of the pensionnaires' artistic production and, with its double educational and ornamental purpose, it is largely destined to the decoration of the royal residences of Louis XIV. The copy must be interpreted as the main mechanism for implementing the project of revival of the French arts, or rather the construction of a national artistic language, carried out by ministers Colbert and Louvois. The reproduction of all the beauty that Rome possessed in antiquity and in painting, the only resource after the export ban enacted by pope Innocent XI, also aimed to transfer the historical-artistic values inherent to the heritage of classical civilizations in a mechanism of ideal and concrete appropriation of a cultural primacy.
Therefore the copy, which assumes a different identity compared to the original model even while still maintaining a direct and obvious dependence, offers a valid interpretation of the relations and exchanges between Rome and Paris in a way that will lead to the famous expression "on peut dire que l'Italie est en France, et que Paris est une nouvelle Rome." The copy is the instrument and expression of the French monarchy's centralist tendency in foreign policy; it reflects the most significant stages of this political and cultural process, which, through its choice of models, records the formulation of the new taste in the arts.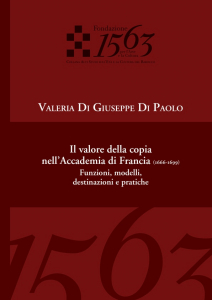 Title: Il valore della copia nell'Accademia di Francia (1666-1699). Funzioni, modelli, destinazioni e pratiche (The value of the copy in the French Academy of Art (1666-1699). Functions, models, destinations and practices)
Author: Valeria Di Giuseppe Di Paolo
Series: Alti Studi sull'Età e la Cultura del Barocco
Publisher: Fondazione 1563 per l'Arte e la Cultura della Compagnia di San Paolo
Year: 2017
Pages: 226 pp.
Language: Italian
Isbn: 9788899808082